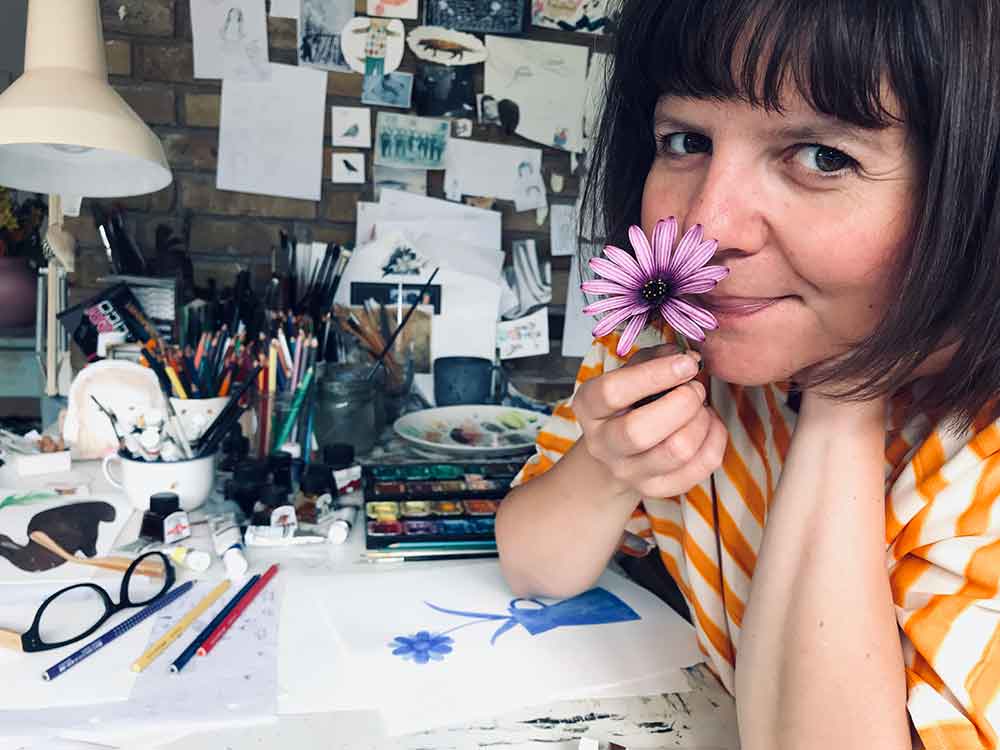 Hello!
My name is Stephanie Donsø and I am a Danish artist, illustrator and maker located in Denmark. I work in my small home studio with a mix of illustrating, painting, stitching and making - always driven by curiosity and ideas I must try out. I have a background as a Fine Artist and have worked with art for lots of years exhibiting within Denmark and abroad as well as curating exhibitions. Nevertheless in the last few years my art practice have mostly been canalized into my artist-run brand Det Gyldne Blad which you could say is a bit more commercial than how I used to make and work with art. Within this brand I illustrate and produce my own stationary cards, prints and make small collectatable items to personalize ones home and wardrobe with.
Style: (That is a strange word for my art) but if you should put a style on it I'd myself would call it a blend of gypsy, folklore, imagination, patterns, boheme and very much storytelling still with a touch of Nordic Scandinavian simplicity that also contain a closeness with nature and a melancolic feeling....
Why did I start Det Gyldne Blad:
That I probably could talk about for hours but shortly I was missing something and in the need of doing things differently and work with art differently. My art already touched arreas of childhood, nature and stories but I wanted to get closer to storytelling and the feeling of folktales and how they can make you wonder upon strange little creatures and minature things. I was tired of thinking about conceptual subject matters meant for the wall of galleries and artcollectors. I just wanted to illustrate for kids and childdish souls. Could it be beacuse I was getting older and with that futher and further away from my own childhood..? Could be...?
Now: I mix around illustrating for bookpublishers and a bit editorial (hope for more) while also transforming some of my illustrations into cards and prints. Sometimes I stitch small collecetable items like dolls etc. and I have plans on taking these projects further as well as the ceramic work I also have been experimenting with (more to come). My work is sold her on my site, in selected small art and interior shops and sometimes I sell at art and designers markets/fairs.
Recently I have taken up exhibiting again. I never thought I would, but for about a year ago I started feeling up for it again. So at the moment you may find my exhibition: 'Between straw - there is a path' at the designershop Kapau in the town center of Copenhagen.
Besides all this I write a lot (always have) and I aim on publishing my own childrens books in a near feature. Earlier I published a childrens Ebook in cooperations with the childrens book app Fairytell.dk. Though nothing beats a physical book of paper!
Practical: I print my cards and prints in cooperation with a professional Danish printing company. My prints and cards are exclusive and made with only the best of paper and inks. That way they make the best gifts for both big and small.
Regarding my kids prints - we are all so exposed to day to so many impressions and images. Therefore it is important to me that my kids prints don't speak 'overlaudly' but is kind to the eye for both child and parent. Still, with an appearence that invites to storytelling and thoughts about adventures and hidden treasures.
Stitching: In relation to folklore and the humble yet often beautiful work made by hand I have a deep interest in small figures and old toys that has led me on to do my small stitched figures and brooches. And so I stitch by hand pocket size artefacts and one-of-a-kind dolls and brooches. Each is individually made and a little work of art in them selves. My small stitching projects also enable me to bring a needle and thread to most places. It calms me down to easily be able to work creativily where ever I am. That is simply how I function, otherwise I'll get grumpy.
Also: I am a member of Danish Visuel Artist (BKF/Billedkunstnernes Forbund) and Danish Authors Society & Illustrators/Dansk Forfatterforening & Illustratorgruppen.

You can follow me here on:

instagram@det_gyldne_blad

Facebook/detgyldneblad.dk

-or you can look up my website:
Stephaniedonsoe.com
For any inquery, wholesale, cooperations feel free to contact med on:
detgyldneblad@gmail.com
Thanks for you interest!
Take care!
Kind regards, Stephanie