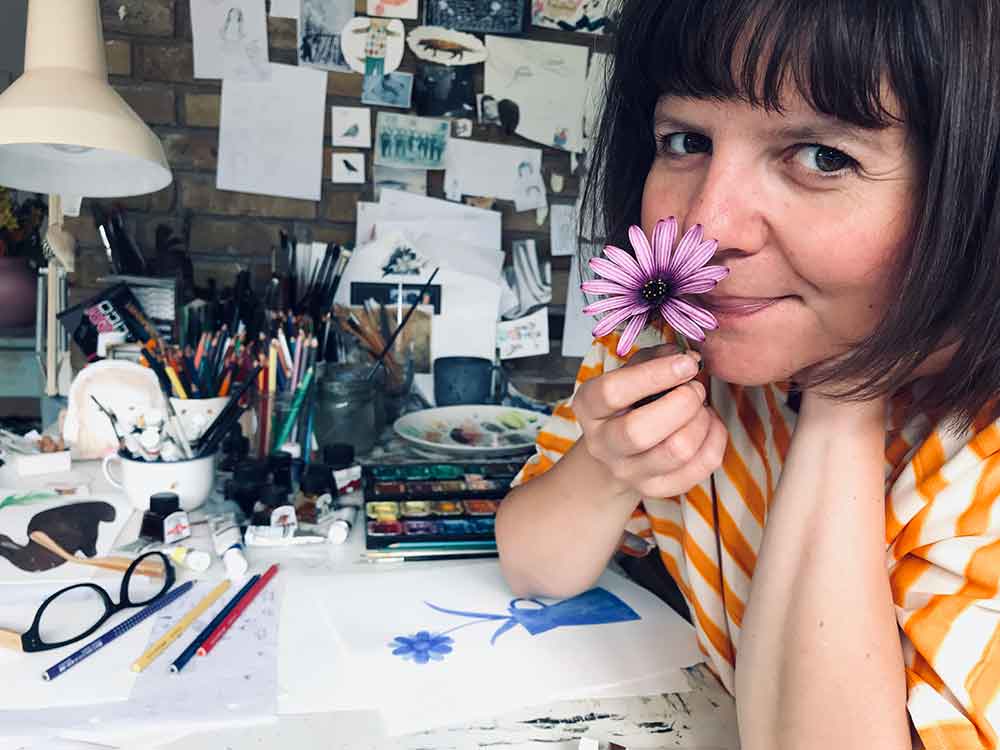 Hello!
My name is Stephanie Donsø and I am a Danish artist, illustrator and maker located in Denmark. I work in my small home studio with a mix of illustrating, painting, stitching and making - always driven by curiosity and my ideas.

When did Det Gyldne Blad start
Some years ago I started to canalize my creativity into what I to day call my artist-run brand Det Gyldne Blad. I started this art brand because I was in the need of approaching my art differintly than I had done earlier. Actually, I felt miserable. It was as if I had been neglecting so many ideas within me for a long time. So, I had to walk a new path, and yet it started to feel more like - home. I have always loved folklore, storytelling, myths, old toys and things you find in antique stores or on fleemarkets. My art has always been in some line with this, but I wanted to connect with it more directly than I had done earlier. It is also why I came up with a brand name that is a bit like a sentence from a story - to keep my work in line with storytelling and imagination. While I started thinking my artwork into new areas I also began to like the thought of making my art function as products like cards and prints that could make me be less depending on a gallery selling my work etc. I wanted Det Gyldne Blad to be something of it's own.

The art of Det Gyldne Blad and working with it helps me to be in touch with my inner child and stories. This, I think is of great importance in being as an opporsite to the adult life and all that comes with adulthood, good and bad. I think that connecting with your inner child and stories may help on ones personal being and growth. And so, I hope that my work of Det Gyldne Blad does something similar to you and for you.
Det Gyldne Blad is art made for your home environment and can easily be displayed on your walls or on a favorite little spot. My brooches are to be warn providing your wardrobe with personality. They are also a charmingly statement to the world claiming your independency. My kids prints are wonderfull art for the kids room, imaginative and cute. Several of the prints are very kind to the eye for both child and parent. They don't overspeak or will overwelm your child, yet the prints still appear strong and full of stories like taken right out of a childrens book.

My little one-of-a-kind dolls are not ment for play but as little collectable friendly companionship dolls. They may be hung as wall ornaments or placed on a favorite shelf and of course in the palm of your hand - as well as close to your heart. They take hours to make and I put a lot of love into every handstitch they are made with. They each would love to live with you and will as the rest of my art sprinckle your home with a bit of sophisticated folk and boheme alike atmosphere in closeness with nature and Scandinavia.
Other info:
Stephanie has a background as a Fine Artist and have exhibited within Denmark and abroad in countries like England, Holland and France. Shes has also curated severeal group exhibitions.
Within the last one and a halph year Stephanie has illustrated a number of light reading books for children in cooperation with the bookpublishers Straarup & co and Turbine Forlaget. She has published her own childrens e-book both as author and illustrator in cooperation with the childrensbook app Fairytell.dk and done editorial work for the magazine Yolly. The art of Det Gyldne Blad has been shown in magazines like BoligLiv, Vores Børn and Strandvejsmagasinet and is available in several shops in Denmark. Stephanie also likes to partispate at art and design-craft markets whenever it is possible.

Stephanie is a member of Danish Visuel Artists (BKF/Billedkunstnernes Forbund) and Danish Authors Society & Illustrators/Dansk Forfatterforening & Illustratorgruppen.

What does Det Gyldne Blad mean?
It is a sentence in Danish meaning The Golden Leaf or That Golden Leaf. In my logo you find a leaf of an Oak tree which is to do with a dearly treasured childhood memory of mine.

If you would like to you can follow Stephanie on:

instagram@det_gyldne_blad

Facebook/detgyldneblad.dk

website: stephaniedonsoe.com
For any inquery, wholesale, cooperations feel free to contact Stephanie on:
detgyldneblad@gmail.com
Thanks for you interest!

Kind regards, Stephanie